Zachary's Way at Marley's Mission
Zachary's Way at Marley's Mission is officially open. Last weekend we traveled to Pennsylvania to finally install Zachary's sign.
it. is. beautiful
Let me rewind to February/March of 2013. That's when the idea of The Remembering Zachary Project was born. I had the thought to do something special for Zachary in the year leading up to what would have been his 10th birthday. I knew 10 was a big deal and I wanted to make sure he felt the love all the way in heaven. I wanted to ask friends and family to join in with me. First I called Gene to talk it over with him. I was nervous about the idea. I was scared to put this idea out there because I couldn't predict the outcome. After our conversation, Gene was on board. He thought it was a great idea. We decided to also start the Remembering Zachary Bench Fund (RZBF) too, for those who wanted to make a donation in his memory. So I wrote a letter, sent it to family and friends, launching the project. I didn't realize that RZBF was the start of what would become Zachary's Way at Marley's Mission.
Within the day of launching the RZBF we had raised enough money for one bench. Then in the next few days we had two benches, and then 3! Soon after we had three additional benches donated by some very special people. In no time we were up to 7 benches. This was on top of the over 50 projects that were done in memory of Zachary. I couldn't believe it. I felt silly to ever question what the response of this project would be. Zachary is one loved little boy. The fact that some of my friends never met him, didn't make a difference. The fact that 9 years had passed since he was on this Earth, didn't make a difference. Everyone responded big time with love, compassion, and support.

After we had the money for the benches, Gene and I went back and forth finalizing what we wanted. We picked a bench design and decided they would all be engraved with "Remembering Zachary". The thought of it makes me tear up. 7 beautiful benches, all with my Meatball's name on them. Gene and April then surprised me with their plan. They wanted to put all of the benches on the side of the stables that overlooked the pastures. They were going to call this side of the stable, Zachary's Way.
How do you possibly say thank you? What an incredible honor. My friends and family are constantly reminding me how present and how important Zachary is in all of their lives. He is always there. I can't explain to you what it feels like as a bereaved mother to know that your son's spirit and legacy are being carried on. It is hands down what helps me continue on living a life without him in my arms.
So we talked about what Zachary's Way was going to look like. I knew there were going to be pavers laid. I knew there were going to be plants planted. I knew that my dad was going to make a sign. I was not prepared for how PERFECT it would be when it all came together.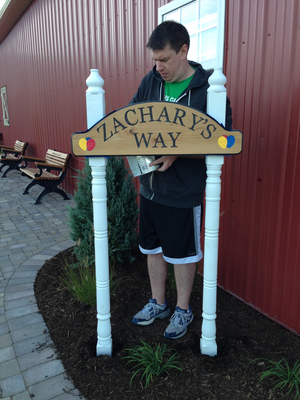 Zachary's sign was a labor of love. My father is so talented. Like most little girls, (I'm the 34 year old baby, so I'm still his little girl) we think our fathers can do anything. I swear I really think my dad can. :) He spent a year planning, creating and perfecting Zachary's sign. If there was a flaw, he took care of it. He made Zachary's sign better than I could have imagined. He listened to everything I wanted and made it happen. He even added the special element of the balloons on the sign, because we have sent him balloons to heaven since his second birthday. Every time I visit Zachary's Way, I will smile when I see it. Thank you Daddy.
The pavers are impeccable! They were originally going to be laid in a straight path but Mark, from Marks Landscaping, decided to do something special. It would mean extra work and extra time but he was willing to do it to make Zachary's Way warm and inviting. I was sent pictures during the process. The pathway was unfolding in such a unique and cozy way. When we were able to see it in person it was breathtaking. The amount of love and work (all those cuts!) that went into making the pathway was incredible. What a gift that Mark and his crew gave to me and to Marley's Mission.
Then came the beautiful plants, bushes, and trees from Varsity Landscaping. They did such a fantastic job adding all of the finishing touches to Zachary's Way. The beds were going to have river rocks originally, but they decided on mulch to make it more inviting. It was also going to have an entrance and an exit, but they decided to cap off the end and landscape it in. It gave Zachary's Way a whole new feeling; a feeling of sitting peacefully in your own little sanctuary, a very special part of Marley's Mission.
Finally came the installation of the Zachary's Way sign. My dad worked hard on it to make sure it all fit together like a puzzle piece. My wonderful husband worked for hours to get the posts cemented into the ground and make sure the sign was set up perfectly.
Seeing it all together was a special moment. To sit along Zachary's Way when nobody else was there was like I was sitting with him. I could feel him there with me. I hope he's pointing down from heaven showing all of the other angels his mommy, his family, and his friends who love him so much.
I'd like to give a very special thank you to Sandy and Jody. They are two wonderful men who were committed to seeing Zachary's Way come together in a very remarkable way. Thank you for your vision and dedication.

I am so thankful. Gene was right. He told me that when I saw it I was going to want to move there! I'm looking forward to visiting Zachary's Way often.